Go to Shop
Checksunlimited
Checks Unlimited provides an abundance of customized checks that can give that dollar amount a little personality. Boxes of checks can be extremely affordable.
The personal checks that Checks Unlimited sells are among the most popular items the site has to offer. These checks are made with an assortment of designs; there are dozens of choices available for customers right now.
The personal checks that are available include options with classic designs, home and garden-themed patterns and much more. The site even has a few licenses with a variety of entertainment brands and sports leagues as it offers MLB and Star Wars checks among others.
Photo checks are also included at Checks Unlimited. These feature a custom photo that a user can upload and then have printed on the background.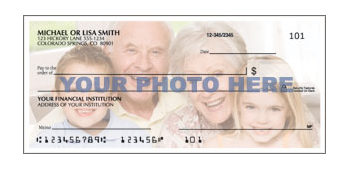 Side tear checks can also be found here. These are designed to where they are torn off on the side instead of at the top, thus making it a little easier to tear off when needed.
Eco-friendly checks can also be found here. These are checks made with recycled paper materials and include some Earth-themed patterns.
All of these checks are made with chemical protection materials to ensure that no chemicals can be used to try and duplicate or alter their contents. Erasure protection is also included to keep erase marks from being invisible. These are points that are highlighted by the pad lock feature on the right-hand side of the check as it shows a good look while ensuring the security features can be highlighted as needed.
Business Checks
Business checks are designed with businesses in mind as they are a little more professional and easier to customize. This offers a number of options that feature the ability to add a custom logo onto the check or an option to order computer checks that can be printed on with help from the Quickbooks and Microsoft Money programs. This makes it easier for people to create something attractive and useful.
Deposit Slips
In addition to traditional checks, Checks Unlimited also sells deposit slips. Deposit slips are designed with a plain image. This uses a series of boxes on the side to help the user list details on the values of checks or other items being deposited at a time. The back area has thirteen lines on it to help the user list checks. This in turn makes it easier for the user to manage the deposit process.